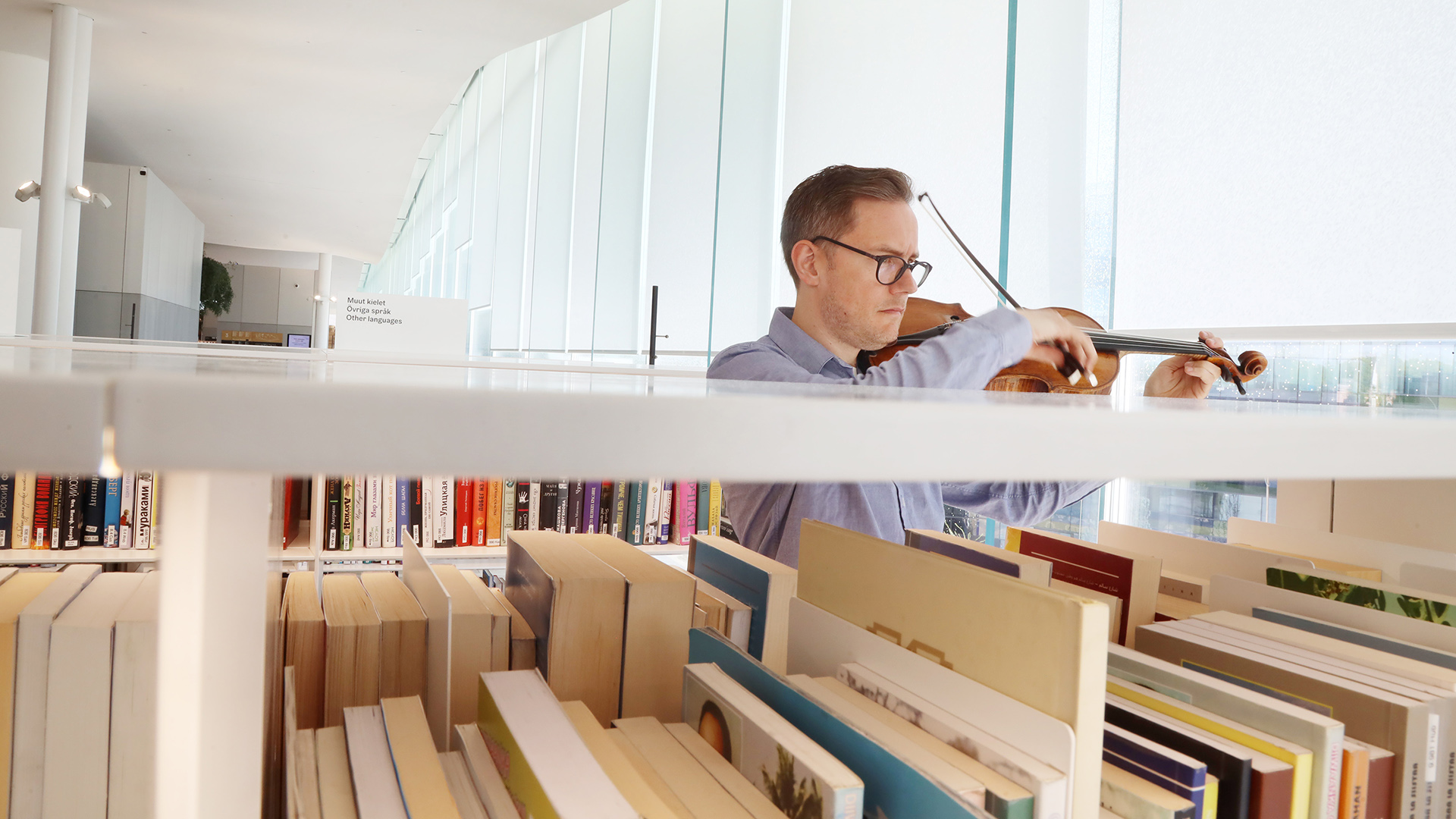 The Philharmonic at the Library
Musicians from the Helsinki Philharmonic Orchestra to perform chamber music at local libraries in November
The Helsinki Philharmonic Orchestra is once again teaming up with the Helsinki City Library for a chamber music tour in local libraries throughout the city this November.
Musicians from the orchestra will perform at twelve libraries, bringing with them chamber music from the early 1900s, Argentinian tangos by Astor Piazzolla, music for bassoon and electronics, and even a concert that combines storytelling and music. Each library concert will last approximately half an hour, and admission is free of charge. This is the fourth year of The Philharmonic at the Library tour.
The tour begins on Monday 6 November at Munkkiniemi Library and ends on Wednesday 29 November at the Rikhardinkatu Library. The concerts begin at noon or 6pm. The Philharmonic at the Library tour provides easy access to high-quality chamber music concerts for local residents in their own public libraries.
Further information about library concerts:
www.helmet.fi/kaupunginorkesterikirjastossasi

Timetable: 
Paris in 1904
MON 6.11 at 18.00 Munkkiniemi Library  
TUE 7.11 at 18.00 Etelä-Haaga Library  
FRI 10.11 at 12.00 Tapulikaupunki Library  
Eva Ballaz, violin 
Liam Mansfield, violin 
Ulla Knuuttila, viola  
Basile Ausländer, cello  
Tango Concert
MON 13.11 at 18.00 Itäkeskus Library  
TUE 14.11 at 12.00 Viikki Library  
WED 15.11 at 12.00 Töölö Library  
Ilmo Saaristo, cello  
Janne Hovi, piano  
Music for Bassoon and Electronics
MON 20.11 at 18.00 Käpylä Library  
TUE 21.11 at 18.00 Kallio Library  
FRI 24.11 at 12.00 Herttoniemi Library  
Erkki Suomalainen, bassoon and electronics  
Once Upon a Time
MON 27.11 at 12.00 Lauttasaari Library  
TUE 28.11 at 18.00 Puistola Library  
WED 29.11 at 12.00 Rikhardinkatu Library  
Carmen Moggach, viola and narration
Elina Raijas, flute and narration  
Hannu Perttilä, oboe and narration  
Noora Van Dok, bassoon and narration  

Photo: Maarit Kytöharju